First select your first aisle of shelving.
Is it a Single Sides Aisle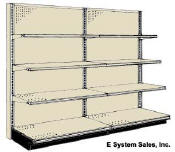 Single sided shelving is generally mounted against a wall for maximum support.
Double sided shelving is generally is placed more in the center of the store.
Using the quote request system you will have the ability to configure your new store or add to your existing store with an wall or island type shelving, end cap, gondola corner sections, wire shelves for chips and candy, fences and dividers for gondolas, tilted bins for hardware, clothing accessories, display hooks, and more.
Questions Please Call 800 619 9566